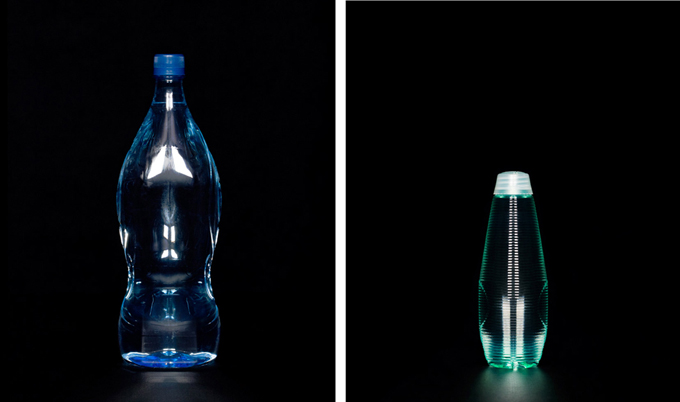 In a step to become more environmentally friendly, the city of San Francisco's Board of Supervisors has voted to ban the sale of plastic water bottles on city property by the fall of 2014. Americans use 50 billion plastic water bottles per year, according to the anti-plastic bottle campaign, Ban the Bottle, and just 23% of those are recycled.
ClampArt photographer Frank Yamrus addressed the same in issue in his elegant series Rune Lagu. He writes:
The industry has grown significantly over the past 30 years by turning a simple indulgence into our "sexy and cool" daily companion. Considering there is no evidence bottled water is healthier than tap; that it takes 17 million barrels of oil per year to produce plastic water bottles uses in the U.S.; that 86% of plastic bottles become garbage or litter; that bottled water may cost up to 10,000 times as much as tap water; its success seems illogical and unlikely. Perhaps a new awareness will push the bottled water industry to the epidemiological tipping point?
Yamrus, who moved to New York City from San Francisco just a few years back, is no longer the only one paying attention to this environmental issue.
See Frank Yamrus' series Rune Lagu
See all of Frank Yamrus' work at ClampArt

Blog post by:
Keavy Handley-Byrne, Gallery Assistant