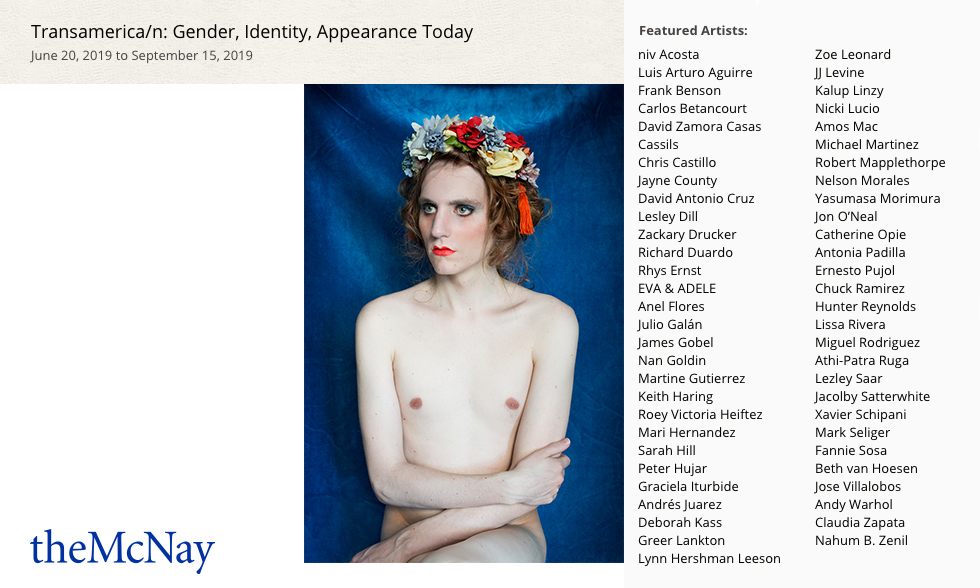 Image: © Lissa Rivera, "Metamorphosis," 2015.
Lissa Rivera's series "Beautiful Boy" is included in the group exhibition "Transamerica/n: Gender, Identity, Appearance Today" at the McNay Art Museum in San Antonio, Texas. The exhibition opens on June 20th and will be on view through September 15, 2019.
Transamerica/n: Gender, Identity, Appearance Today celebrates the authentic, beautiful, and vulnerable voices of contemporary, North American artists who express their true selves through a broad gender spectrum. Some of the artists identify as LGBTQ+, and some do not. The art in Transamerica/n speaks to family, community, self-discovery, and ultimately identity. Artists' experiences are highlighted as part of the McNay's dual commitment to artistic excellence and community impact.

Transamerica/n is the country's first broad survey of contemporary artwork from across North America to explore the construction of identity through gender and outward appearance. Transformative, transcendent, and trans-historical, Transamerica/n breaks down conventional boundaries and celebrates a spectrum of gender identity through individual presentation and societal perception. Transamerica/n showcases artists from underrepresented backgrounds in the United States, Mexico, and Canada who are deeply committed to exploring shifting definitions of gender identity and bravely testing the limits of self-expression. The exhibition also commemorates the 50th anniversary of the 1969 Stonewall Riots, which served as a catalyst for the modern LGBTQ+ movement in the U.S. and around the world.

This exhibition is a teaching moment, reflecting a part of our global community previously underrepresented at the McNay. Everyone should at some point be able to see themselves, their cultures, their identities, and their passions reflected in our collections and exhibitions. Educating everyone is at the core of our mission: "to engage a diverse community through the discovery and enjoyment of the visual arts."
McNay Art Museum
6000 North New Braunfels Avenue
San Antonio, TX 78209
For more information, please visit the McNay Art Museum website.