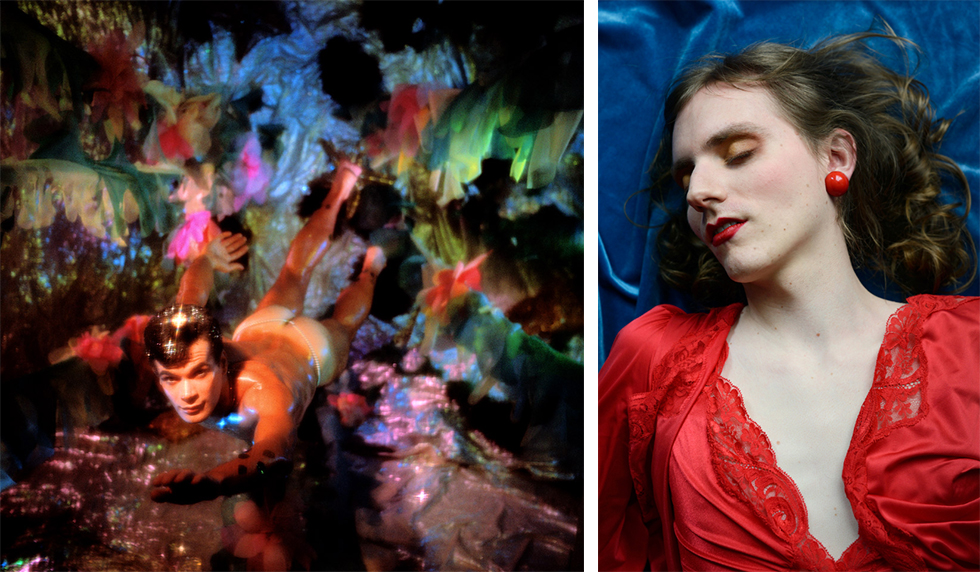 [L]: James Bidgood, "Pink Flowers, Water Colors," early 1960s, Digital C-print; [R]: Lissa Rivera, "Study in Red and Blue," 2015, Archival pigment print.
Soho Photo Gallery in New York City is presenting "Photography After Stonewall," a group exhibition including artworks by James Bidgood and Lissa Rivera. The exhibition opens with a reception on Tuesday, June 4th, from 6-8pm, and will be on view through June 29, 2019. The exhibition was curated by Bill Travis and Larry Davis.
Photography After Stonewall highlights the work of twenty-three living artists, all of whom have developed a creative approach to LGBTQ issues.The themes include Body/Gender/Sexuality, Home, Family, Gays in the Military, AIDS, Fetish, Pulp and Fantasy. Fifty years ago, much of this would have been unthinkable. Among its many accomplishments, the Stonewall Riots opened up a new area for artistic expression. Events are being held around the nation to commemorate this important milestone. This exhibition focuses entirely on creative photography.

The participating photographers are Ronaldo Aguiar, Berena Alvarez, James Bidgood, Vincent Cianni, Joyce Culver, John Paul Evans, Sunil Gupta, David Hilliard, Robert Kalman, Rivka S. Katvan, David Lebe, Patrick McNabb, Slava Mogutin, Barbara Nitke, Lissa Rivera, Jeff Sheng, Pacifico Silano, Sage Sohier, Sam Stoich, Bill Travis, Arthur Tress, Annie Tritt, and Sophia Wallace.

The exhibition, curated by gallery photographers Bill Travis and Larry Davis, will be preserved in a 128-page book which includes scholarly essays, artists' statements and interviews.
Soho Photo Gallery
15 White Street
New York, NY 10013
(212) 226-8571
For more information, please visit the Soho Photo Gallery website.