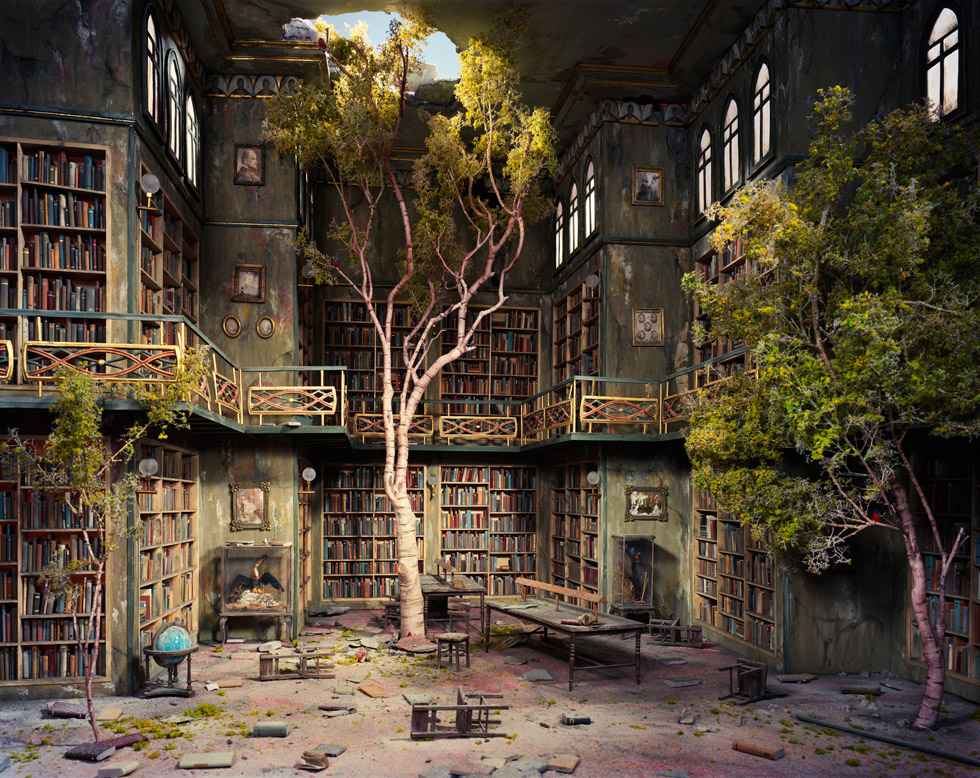 Image: Lori Nix/Kathleen Gerber, "Library," 2007, Archival pigment print.
Artworks by Lori Nix and Kathleen Gerber are on view in the group exhibition "Small Worlds: Miniatures in Contemporary Art" at the Fleming Museum of Art in Burlington, Vermont. The exhibition opened on February 13th and will be on view through May 10, 2019.
Small Worlds explores the ways contemporary artists use miniatures to inspire awe, whimsy, and even dread. These artists either create or employ found miniature figures, rooms, and landscapes, displaying them through photographs or sculptures. The resulting scenes, reminiscent of our childhood playthings, can recall in us that sense of wonder for the world around us, but also call our attention to the dark forces hidden beneath the seduction of the small. As our inherent attraction to the miniature sucks us into the imagined world of the artist, real-world traumas such as violence, displacement, and environmental disaster are brought to our attention in intricate and intimate ways.
Fleming Museum of Art
University of Vermont
Burlington, VT 05405
(802) 656-3131
For more information, please visit the Fleming Museum of Art website.