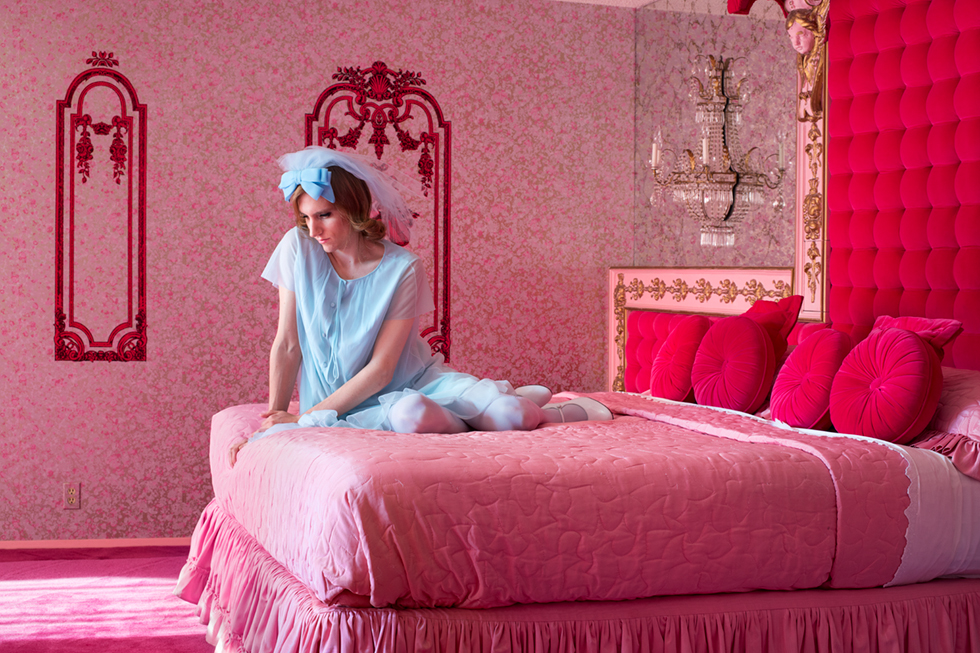 Image: © Lissa Rivera, "Pink Bedroom (for Priscilla)," 2017, Archival pigment print.
Lissa Rivera's solo exhibition of "Beautiful Boy" opens today at the Newport Art Museum and will be on view through May 20, 2018:
For her ongoing series "Beautiful Boy," Lissa Rivera photographs her domestic partner. The project began as a conversation on subway between Rivera and her male friend who shared with her that he wore women's clothing in college but after graduation, "struggled to navigate a world that seemed both newly accepting and yet inherently reviling of male displays of femininity." Believing that photography could create a space to experiment, Rivera began photographing her friend and over time he became both her muse and romantic partner. According to the artist: "When taking the photos, I feel the same as when viewing a film where a director and actress share a deep connection to the fantasy captured. It is thrilling to see my partner transform into countless goddess-like forms. The project is a canvas to project our desires. At times the images even become self-portraits. The camera transposes our private experiences into public expression." Since beginning the project, Rivera has moved the photo sessions from her studio to locations abroad at historical sites. As she puts it, "Leaving behind the artifice of the studio, we began to uncover a dreamlike new aesthetic, a vision of queer femininity deeply rooted in an imagined past, and an uncanny conversation with the generations of women who inhabited these spaces before us."

What began as a conversation between friends has blossomed into a rich photographic journey exploring issues of identity, masculinity, and femininity. Together artist and muse play with the "feminine fantasies" of cinema, art history, and visual culture. Both admit captivation and ambivalence toward these depictions of femininity. Yet at the core of Rivera's photographs is the idea that her partner's femininity should be viewed as a strength.
"Lissa Rivera: Beautiful Boy"
January 20 – May 20, 2018
Library & Studio Gallery, Griswold House
Newport Art Museum
76 Bellevue Avenue
Newport, RI 02840
401.848.8200
For more information
Browse all of Lissa Rivera's work at ClampArt
Blog post by:
Raechel McCarthy, Director