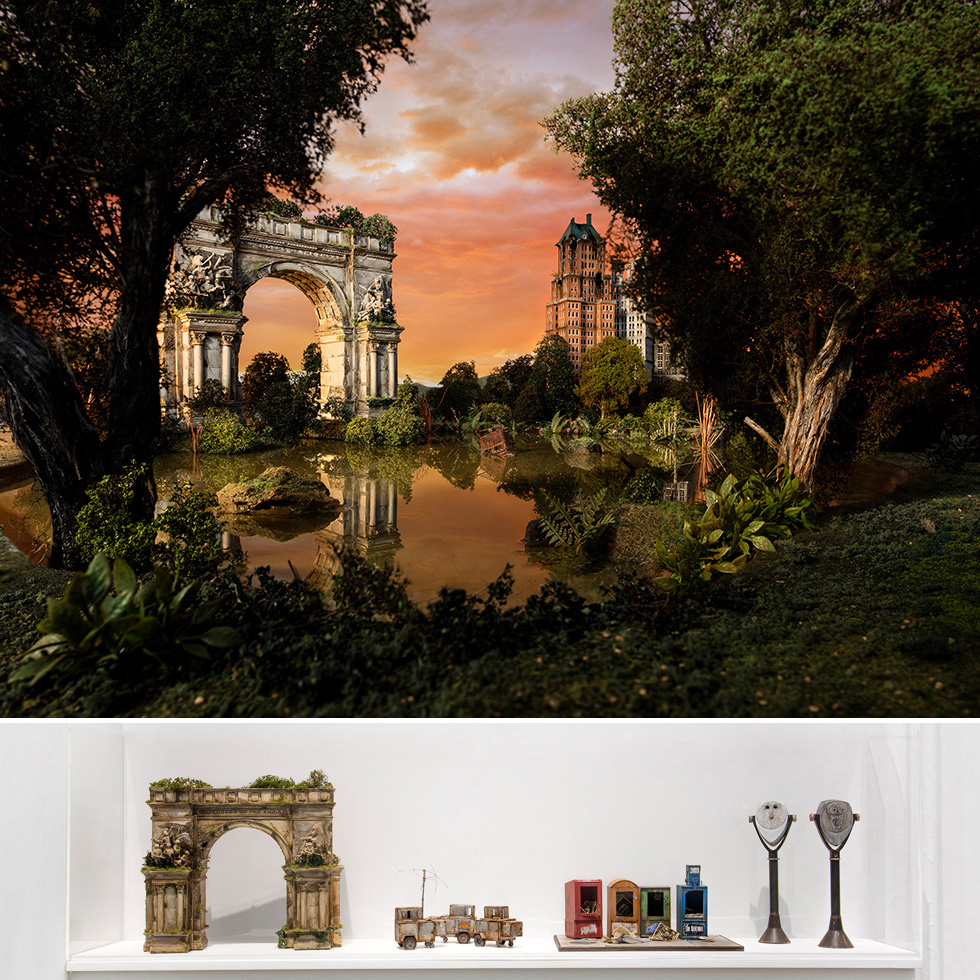 Above: Lori Nix/Kathleen Gerber, "Arch," 2015, Archival pigment print; Below: Installation view of diorama objects constructed for photographs of "Empire"
On Saturday, 01.13.2018, at 3.00 pm, artists Lori Nix and Kathleen Gerber will discuss the creation of artworks from their exhibition "Empire":
Lori Nix and Kathleen Gerber have been making art collaboratively for over sixteen years. Originally from the American Midwest, now based in Brooklyn, they construct meticulously detailed model environments and photograph the results. For the last decade they have found inspiration in their urban surroundings, imagining a future mysteriously devoid of mankind. Their miniature fake landscapes and interiors reflect a love of science fiction and dystopian entertainment (think "Blade Runner," "Planet of the Apes," "Logan's Run"), an appreciation for great architecture, and an affinity with the Sublime painters of the Hudson River School.

Their images of faux landscapes and gritty urban interiors have gained wide acclaim in both the U.S. and Europe, and Nix is a 2014 Guggenheim Fellow in photography.
"Empire" is on display at ClampArt through 01.27.2018.
ARTIST TALK
Lori Nix/Kathleen Gerber | "Empire"
Saturday, 01.13.2018, 3:00 p.m.
ClampArt
247 West 29th Street, Ground Floor
New York, NY 10001
(646) 230-0020
Browse a slideshow of the exhibition "Empire" at ClampArt
Browse all of Lori Nix and Kathleen Gerber's work at ClampArt
Blog post by:
Raechel McCarthy, Director