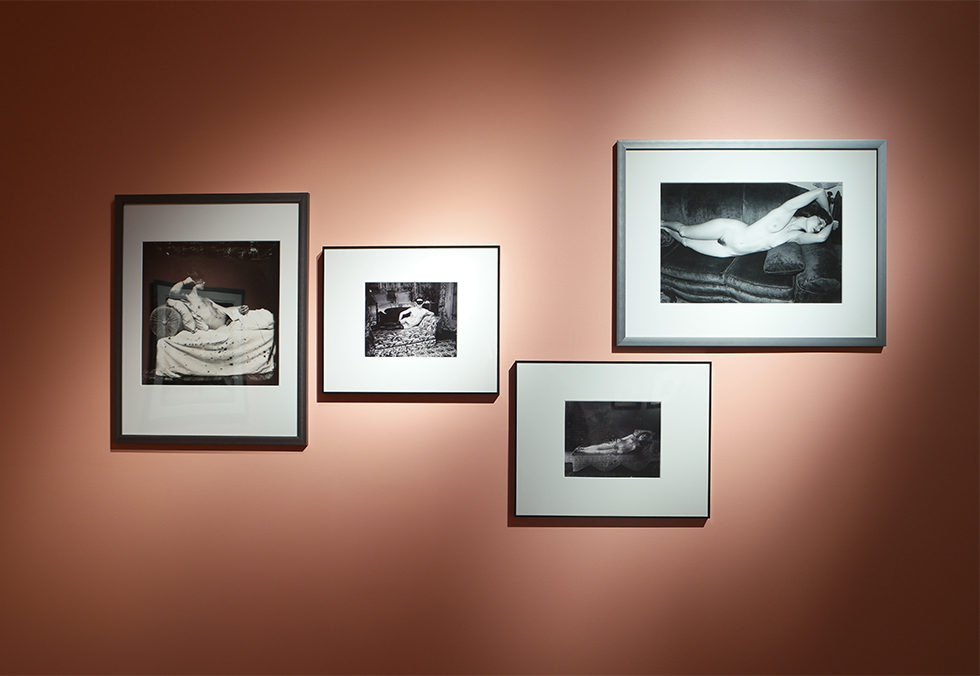 Above: Installation view of Chuck Samuels, "After Bellocq," second from left.
Work by photographer Chuck Samuels is on view in the exhibition the most beautiful part/la parte más bella at the Museo de Arte Moderno in Mexico City:
The Ministry of Culture and the National Institute of Fine Arts, through the Museum of Modern Art, present the exhibition The Most Beautiful Part, curated by art historian James Oles within the context of Foto México 2017.

This exhibition brings together 115 black and white photographs of 64 artists, vintage and contemporary prints (silver on gelatin, solarizations, photogravure, collages and photomontages, among other techniques). All have in common the theme of the human body and belong to the collection of Pedro Slim (Beirut, Lebanon, 1950).

This never-before-seen collection is perhaps one of the most unusual that is sheltered in Mexico, and its quality is comparable to the undisputed prestige of others in the sphere of private collecting. It covers the 20th and 21st centuries and makes local and international creators rub elbows.
The exhibition will be on view through March 11, 2018.
the most beautiful part/la parte más bella
October 19, 2017 – March 11, 2018
Museo de Arte Moderna
PASEO DE LA REFORMA Y GANDHI S/N
BOSQUE DE CHAPULTEPEC
Bosque de Chapultepec I Secc
11560 Miguel Hidalgo
Mexico City, Mexico
Browse work by Chuck Samuels at ClampArt
Blog post by:
Raechel McCarthy, Director