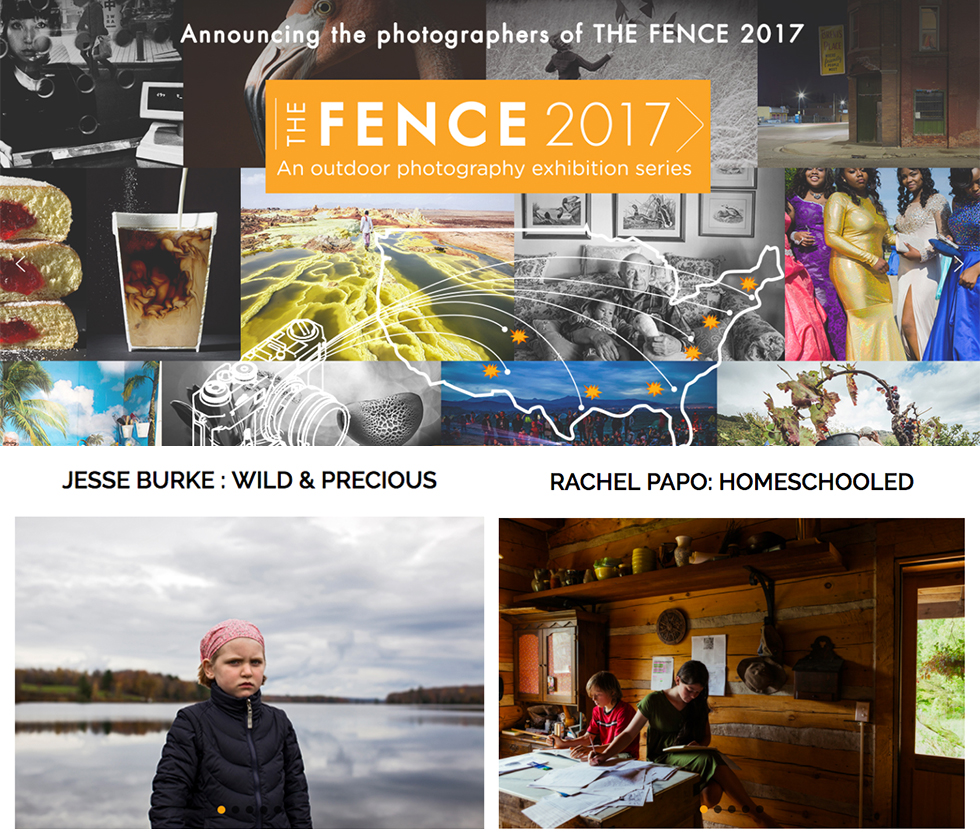 Congratulations to Jesse Burke and Rachel Papo, whose photographs were selected for the public art exhibition THE FENCE 2017!
Photographs from Rachel Papo's series "Homeschooled" will be on view in seven cities nationwide, starting with Brooklyn Bridge Park on June 27th. Photographs from Jesse Burke's series "Wild & Precious" will be on view in Boston starting in October 2017.
THE FENCE is a large-scale traveling photography exhibition reaching over 4 million visitors annually through open-air exhibitions in 7 cities across the United States: Brooklyn, Boston, Atlanta, Houston, Santa Fe, Durham, and Denver.

Photographers submitting to THE FENCE 2017 may also be considered for one of our 4 Regional Showcase exhibitions that will highlight work by photographers living in New Mexico, Colorado, North Carolina, and New England respectively.

Since its inception, THE FENCE has consistently attracted exceptional work by talented photographers from around the world, giving us an opportunity to share these powerful photographic narratives with a diverse audience of millions of visitors annually, while providing photographers with a truly public platform and unexpected career opportunities.

Photographers of all levels are invited to submit work for consideration by the jury. The submitted work should fit one or more of our 7 thematic categories: Home, Streets, People, Creatures, Nature, Play, and Food.
For more information, visit the The Fence 2017 website.
There will be an opening reception and walking tour of the THE FENCE in Brooklyn Bridge Park on July 19th from 6:30-9:00pm. View details on the Facebook event here.
Browse Jesse Burke's series "Wild & Precious" at ClampArt
Browse Rachel Papo's series "Homeschooled" at ClampArt
Blog post by:
Raechel McCarthy, Associate Director