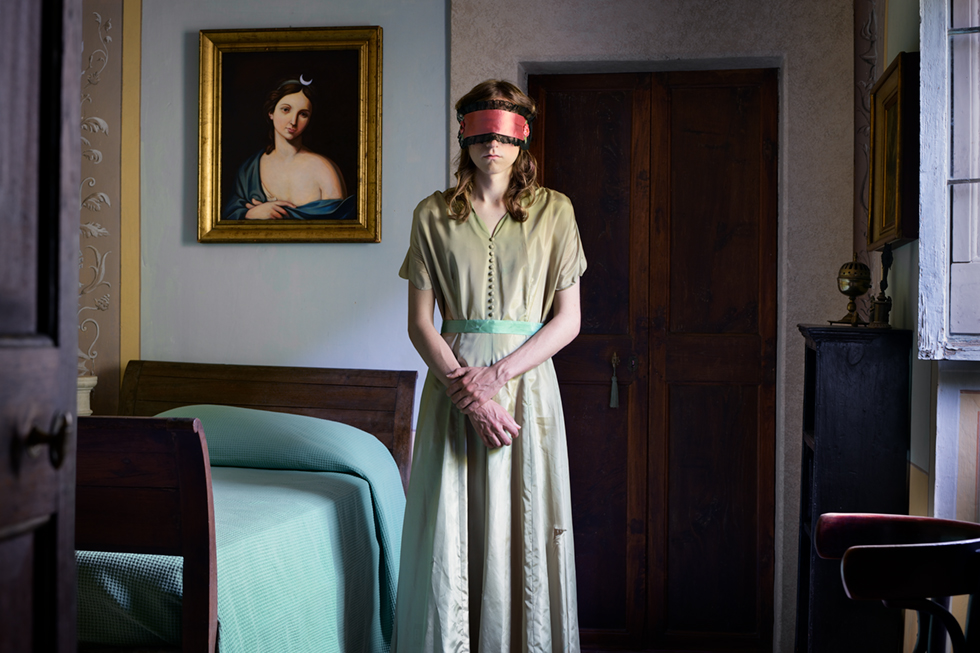 ©Lissa Rivera, "Blindfold," 2016, Archival pigment print.
Lissa Rivera's "Beautiful Boy" was listed among six "Series Winners" of this year's Magnum Photography Awards, having taken top spot in the "Portrait" category. Winners were selected by an international jury including Alec Soth, Lesley Martin, Susan Meiselas, Sarah Leen, Azu Nwagbogu, David Hurn, Yumi Goto, and Jim Casper:
We are very pleased to announce the 41 outstanding photographers who have been selected as recipients of the 2nd annual Magnum Photography Awards! Our jury—consisting of Magnum photographers, world-renowned curators, and experts from organizations like National Geographic and Aperture—aimed to recognize a cross-section of the most accomplished image-makers working today. We feel honored to share such a wide range of inspiring, international discoveries; the chosen group represents some of the most talented practitioners in contemporary photography.

All 41 photographers' work will be shown at a digital exhibition at The Photographers' Gallery in London later this year. In addition, the 12 winners will receive $27,000 in cash awards as well as vouchers to participate in a Magnum photographer's workshop somewhere in the world.

These photographers—who come from 24 countries on 5 continents—present us with a remarkable array of subject matter, stylistic approaches and personal visions. Below, immerse yourself in a sweeping selection of work: hard-hitting photojournalism, in-depth documentary, intimate portraits, challenging conceptual projects, gritty street photography, celebrations of nature and humanity, and other compelling images from across our world. Each of these projects, whether a single picture or an extended series, harnesses the power of photography to inform and inspire, stimulating a sense of outrage or activism, wonder and hope.
Click here to view a complete listing of the 2017 award winners, finalists, and jurors' picks
Blog post by:
Raechel McCarthy, Associate Director