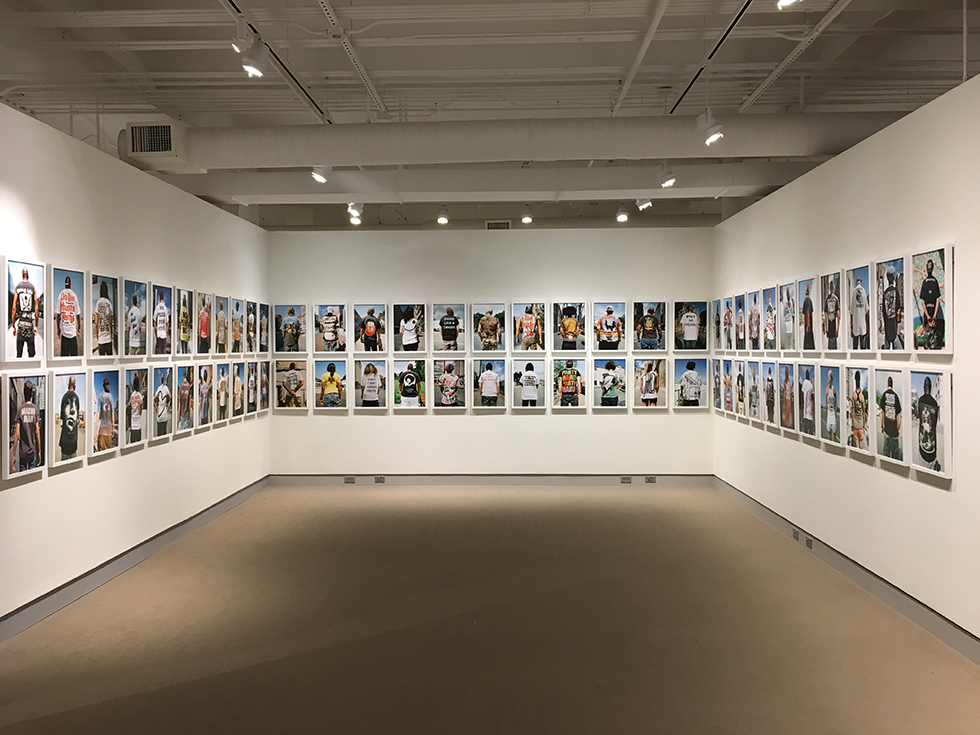 Image: Installation of Susan Barnett's "I Wear What I Want" exhibition at the University of Maine Museum of Art.
An exhibition of photographs by Susan Barnett, "I Wear What I Want," opens at the University of Maine Museum of Art on Thursday, May 18, 2017.
"I Wear What I Want" features over 100 images by NYC-based photographer Susan Barnett. The exhibition, composed of color photographs from Barnett's "Not In Your Face" series, explores how the messages and graphics we choose to wear on t-shirts provide a window into our sense of style, personal philosophies and values. Barnett states that her subjects are "human billboards that advertise purposes in life, philosophies that drive us, ideologies we attest to. They are calls for action, they are calls home, they might be to honor a fallen hero, the death of a celebrity. They are the soundtrack of a city, a visual newspaper."

The photographer traveled the U.S. and abroad to capture intriguing individuals wearing an array of styles and catchy phrases that range from raunchy text to campy cartoon imagery. Not only vehicles of personal expression, these t-shirts exhibit messages that illustrate the complex polarities of thought currently existing within the nation. Many of the screen­printed shirts pictured in Barnett's images are emblazoned with in-your-face language that convey a spectrum of beliefs; issues of race, unyielding politics, and religion are prominently featured in these collected images. Barnett's subjects, bodies of all shapes, ages and sizes, are pictured from behind. The messages and graphics embraced by these individuals include celebrity idolization, sexual braggadocio, rebellious pronouncements and even nods to artistic masterpieces.
The exhibition will be on view through September 2, 2017.
Browse Susan Barnett's series "Not In Your Face" at ClampArt
Blog post by:
Raechel McCarthy, Associate Director