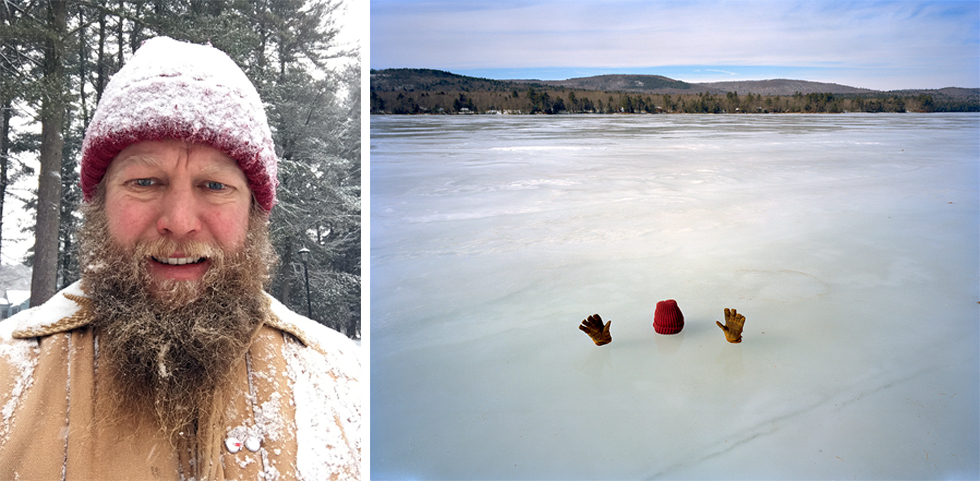 Images: (Left) The artist at Yaddo; (Right) Adam Ekberg, "Untitled (Frozen Man)," 2016, Archival pigment print.
Photographer Adam Ekberg just completed his month-long residency at the prestigious Yaddo artist retreat in Saratoga Springs, New York. Having produced many of his best artworks in the wintertime, we are excited to see what he created during his February residency!
The Corporation of Yaddo was founded in 1900 by financier Spencer Trask and his wife, Katrina. They bequeathed the property and their fortune to the establishment of a residency program for artists, which first opened its doors in 1926. The Yaddo website states:
The Trasks' legacy has been profound. John Cheever wrote that the "forty or so acres on which the principal buildings of Yaddo stand have seen more distinguished activity in the arts than any other piece of ground in the English-speaking community and perhaps the world." Collectively, Yaddo artists have won 74 Pulitzer Prizes, 29 MacArthur Fellowships, 68 National Book Awards, and a Nobel Prize (Saul Bellow, who won the Nobel for Literature in 1976). Notable Yaddo artists through the turn of the millennium include James Baldwin, Leonard Bernstein, Truman Capote, Aaron Copland, Philip Guston, Patricia Highsmith, Langston Hughes, Ted Hughes, Jacob Lawrence, Sylvia Plath, Martin Puryear, Katherine Anne Porter, Amy Sillman, Clyfford Still, and David Foster Wallace. More recent guests include Terry Adkins, Laurie Anderson, Jeffrey Eugenides, Sheri Fink, and Matthew Weiner.
Browse Adam Ekberg's work at ClampArt
Blog post by:
Raechel McCarthy, Associate Director