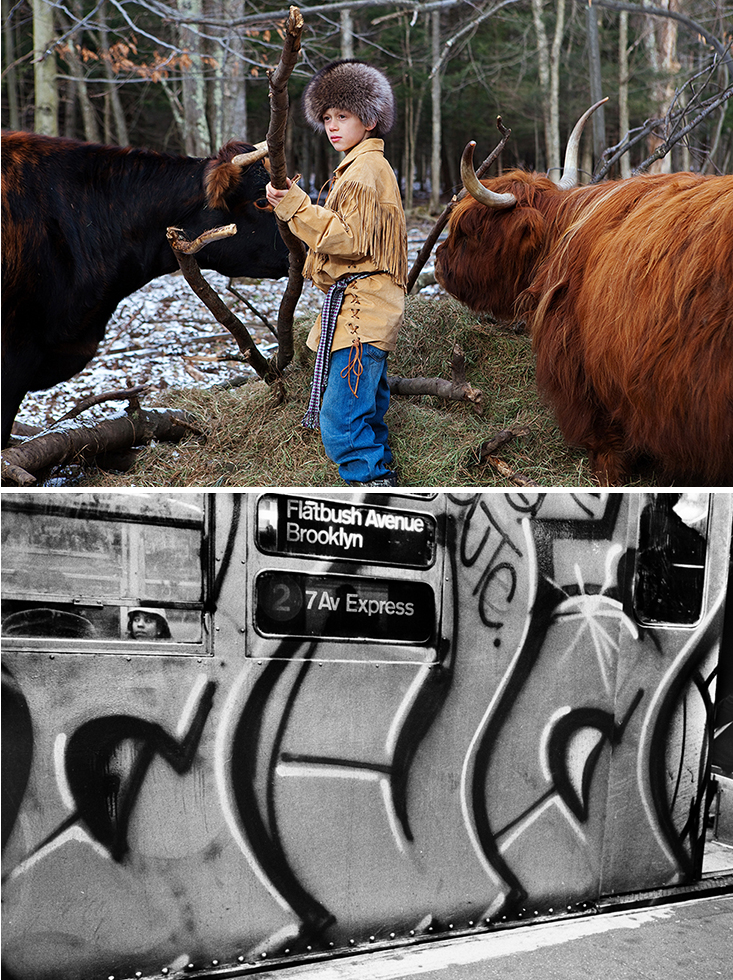 Images: [above] © Rachel Papo, "Roan with Kilda and April," 2011, Digital C-print; [below] © Brian Young, "Untitled (from the 'Subway Series')," 1984, Gelatin silver print.
On Thursday, 11.17.2016, from 6.00-8.00 pm, ClampArt is hosting a book signing event with artists Rachel Papo and Brian Young. Both artists will be in attendance to sign copies of their new monographs, Homeschooled and The Train NYC 1984.
Rachel Papo's book Homeschooled was recently published by Kehrer Verlag in Germany. She began the project in 2011 while living in Woodstock, NY, with her husband and infant daughter. Her interest in counter-culture education was peaked when she met local families who had opted to homeschool their children. Rachel devoted two years to capturing the families' unconventional approach to eduction, noting that "though it is still a heated topic, the number of home schooled children in America continues to grow. Together with today's increasingly fast-paced, connected culture, the choice to homeschool seems an almost natural alternative for many families."
A master printer and champion of the gelatin silver printing process, Brian Young moved to New York City in 1984, when rampant crime and drug abuse were still in full swing. His new book The Train NYC 1984 (published by Damiani) depicts this stark reality as it played out in the NYC subway system. Quoted in The Guardian, Young states: "It is also here where denizens from around the world come face to face, where the wealthy and homeless sit side by side and where race has no priority seating. Here, the hustle and bustle of urban life sets a stage for interaction, a claustrophobic microcosm of daily existence."
Signed copies of the hard-bound books will be available for purchase during the event.
ClampArt
247 West 29th Street, Ground Floor
New York City
Thursday, November 16, 2016
6.00 – 8.00 pm
646.230.0020
View Rachel Papo's series "Homeschooled" at ClampArt
View the publication Homeschooled available at ClampArt
Browse Brian Young's work at ClampArt
View Brian Young's publication The Train NYC 1984 available at ClampArt
Blog post by:
Raechel McCarthy, Associate Director