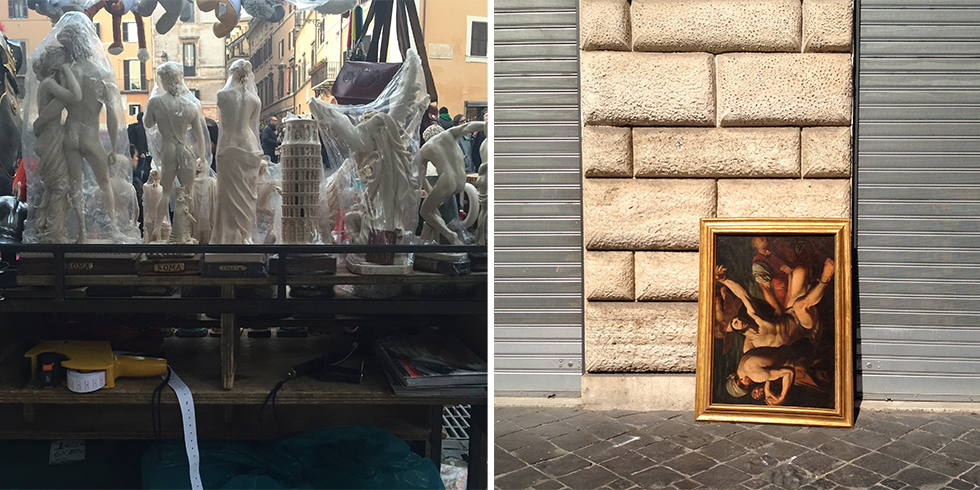 Images: © Jeannette Montgomery Barron, 2013.
Jeannette Montgomery Barron's work will be on view at the American Academy in Rome as part of the exhibition "A View of One's Own," opening Thursday, October 13, 2016. Along with photography by archaeologist Esther Boise Van Deman and author Georgina Masson, the exhibition will feature approximately 30 photographs and a 10-minute video created by Montgomery Barron during the years she spent living abroad in Italy:
This exhibition, drawn in part from the holdings of the Photographic Archive of the American Academy in Rome, features a selection of photographs by foreign women in Rome from three successive generations. Their work confronts aspects of the Eternal City and its urban transformation over more than a century, from the Belle Époque to the present day. At the same time, it tracks the emergence of photography as an independent medium wielded by women with distinctive viewpoints, as it evolved from a documentary aid to a vehicle for subjective, even gendered expression.

The protagonists are American archaeologist Esther Boise Van Deman, who photographed Rome and its surroundings in the 1910s; Georgina Masson, author of the classic guidebook, "The Companion Guide to Rome," that has shaped foreigners' experiences of Rome since the 1950s; and contemporary photographer Jeannette Montgomery Barron, whose images capture glimpses of Rome as seen by an American living abroad in the Eternal City, folding them into a wandering, meditative reverie. Seen in succession against a photographic landscape of Rome defined for the most part by men, these photographs posit another way of seeing the city's history. Taken by female flâneurs, empirical observations of bricks and mortar progressively dissolve into pure, evanescent experience.

"A View of One's Own" is curated by Lindsay Harris, Peter Benson Miller, and Angela Piga. It is part of La Quadriennale in città (16° Quadriennale d'Arte) and FOTOGRAFIA, Festival Internazionale di Roma.
"A View of One's Own"
AAR Gallery
American Academy in Rome
Via Angelo Masina 5
00153, Roma ITALIA
+39 06 58461
Opening reception:
Thursday, October 13, 2016
6:00-9:00p.m.
Valid photo ID required for entry
Browse Jeanette Montgomery Barron's work at ClampArt
Blog post by:
Raechel McCarthy, Associate Director