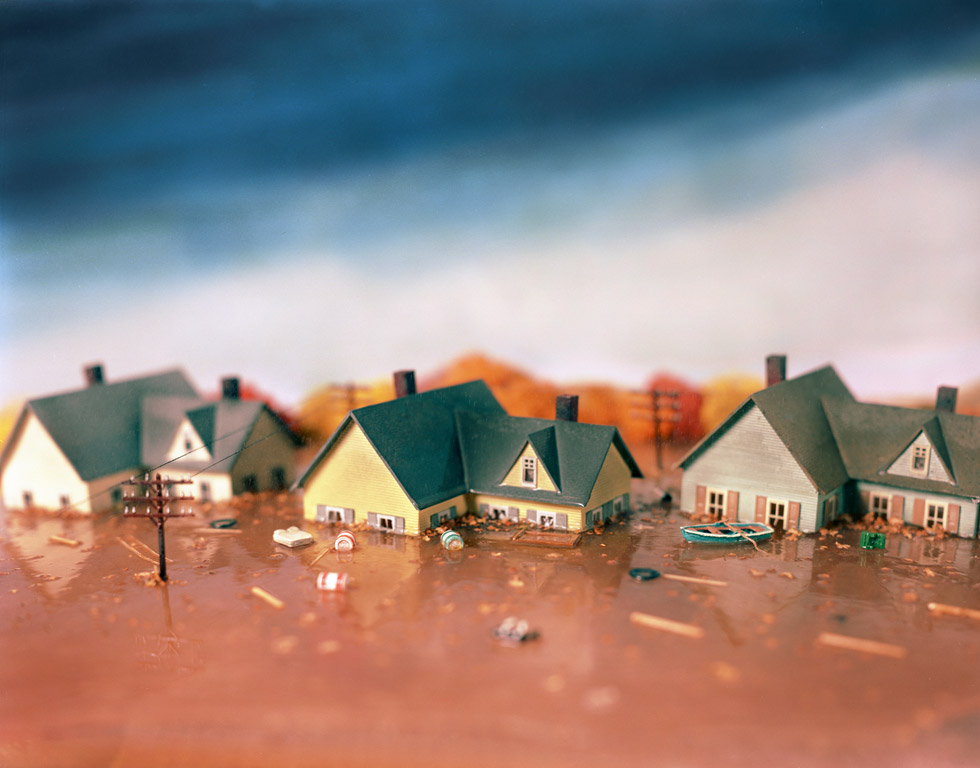 Image: © Lori Nix, "Flood," 2001, Archival pigment print.

Five artworks by Lori Nix are currently on view in "Telling Tales: Contemporary Narrative Photography" at The McNay Museum in San Antonio:
"Telling Tales: Contemporary Narrative Photography" is a survey of work by artists who record stories through pictures, whether real or imagined. Organized by the McNay's Chief Curator and Curator of Contemporary Art, René Paul Barilleaux, the exhibition includes approximately fifty photographs from the late 1970s to the present by 17 ground-breaking photographers. "Telling Tales" is the McNay Art Museum's first large-scale exhibition of photography and is accompanied by an 88-page illustrated book.

The exhibition presents over fifty photographs. Works such as Nan Goldin's landmark "The Ballad of Sexual Dependency" demonstrate some artists' explorations of the politics of the day—in this case, the onset of the AIDS crisis—while other examples, including photographs by Tina Barney, Justine Kurland, and Paul Graham investigate class differences, marginalized communities, and social justice.

While some contemporary artists explore photographic imagery as it is filtered through and mediated by technology and the internet, others exploit photography's ability to present a momentary, frozen narrative. Images are staged for the camera or highly manipulated through digital processes, yet they often resemble a casual snapshot or movie still. Primarily in color and often large-scale, the photographs reference everything from classical painting and avant-garde cinema, to science fiction illustration and Alfred Hitchcock. The exhibition includes examples of these various approaches to image-making.

"Telling Tales: Contemporary Narrative Photography" features work by Tina Barney, Julie Blackmon, Gregory Crewdson, Philip-Lorca diCorcia, Mitch Epstein, Nan Goldin, Paul Graham, Jessica Todd Harper, Teresa Hubbard and Alexander Birchler, Anna Gaskell, Justine Kurland, Lori Nix, Erwin Olaf, Alex Prager, Alec Soth, and Jeff Wall.
"Telling Tales: Contemporary Narrative Photography"
September 29, 2016 – January 15, 2017
The McNay Art Museum
6000 North New Braunfels
San Antonio, TX 78209
210.824.5368
For more information
Browse all of Lori Nix's work at ClampArt

Blog post by:
Raechel McCarthy, Associate Director