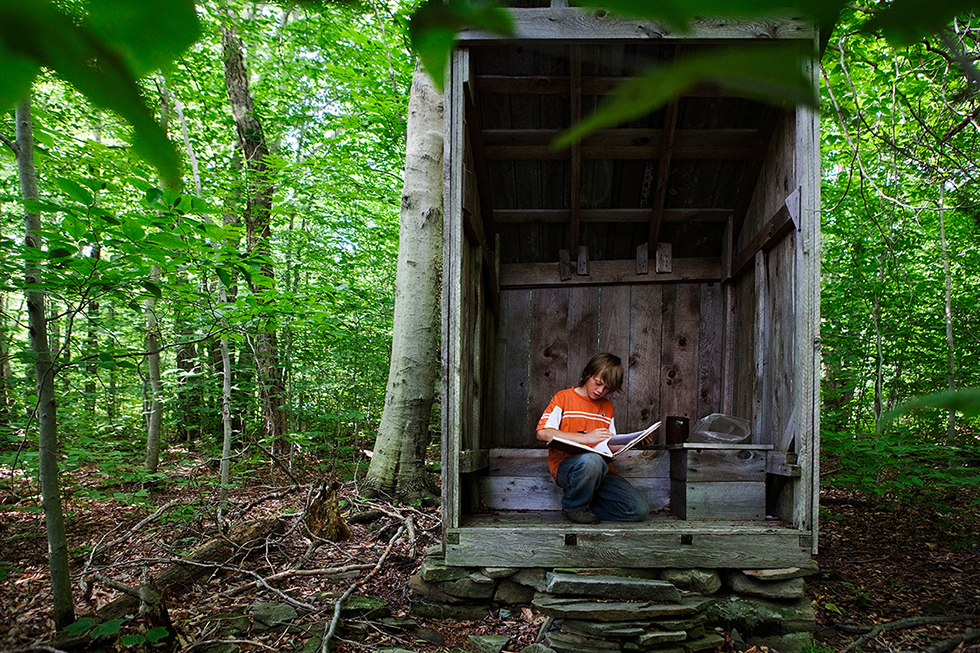 Image: © Rachel Papo, "Roan with the Outhouse Guestbook," 2012, Digital C-print.
To celebrate the publication of her new book "Homeschooled," photographer Rachel Papo and authors Ariel Shanberg and Holly Graff will be signing copies of the book at the Center for Photography at Woodstock on Saturday, August 6, 2016, from 2:00 – 5:00 p.m.:
While living in Woodstock, NY with her husband and baby daughter, Papo developed her interest in counter-culture education. As criticism of the U.S. education system grew on a national level she decided to explore this controversial topic in depth and challenge her own prejudgments on the issue. In 2011, she began to photograph a small number of families living in the Catskills, who practice homeschooling. Papo focused particularly on the children, in an attempt to capture what she describes as "their spirit, and the meaning of growing up outside the conventional four classroom walls."

Rachel devoted two years to her photographic research noting, "though it is still a heated topic, the number of home schooled children in America continues to grow. Together with today's increasingly fast-paced, connected culture, the choice to homeschool seems an almost natural alternative for many families."

The book "Homeschooled" was recently published by Kehrer Verlag in Heidelberg, Germany. Copies of the hard-bound book will be available for sale during the book signing event.

Rachel Papo has exhibited her photographs internationally. She is the recipient of a 2006 NYFA Fellowship and a 2009 Lucie Award, among other awards. Papo's works are included in the collections of the Museum of Fine Arts, Houston, and the Museum of Contemporary Photography, Chicago. Images from the series "Homeschooled" were featured in a solo exhibition at CPW in April 2015.
The Center for Photography at Woodstock
59 Tinker Street
Woodstock, NY 12498
845.679.9957
Saturday, August 6, 2016
2:00 – 5:00 p.m.
For more information
View the series "Homeschooled" at ClampArt
Browse all of Rachel Papo's work at ClampArt
Blog post by:
Raechel McCarthy, Associate Director