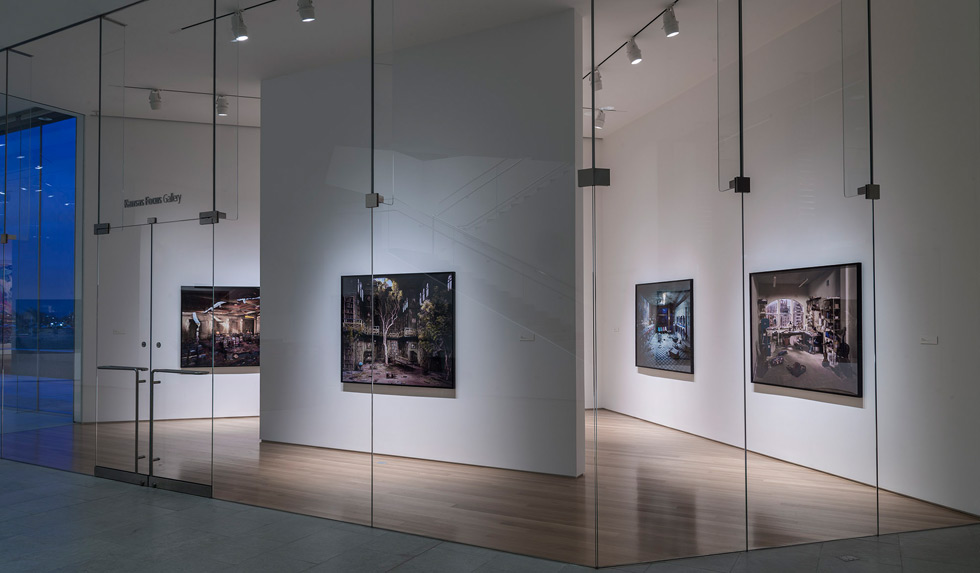 Lori Nix's exhibition "The City" at the Nerman Museum of Contemporary Art is the inaugural show in the institution's new Focus Gallery (February 4 – May 29, 2016).
"Thanks to museum architect Kyu Sung Woo and patron Mary Davidson, this gallery has emerged as one of the most extraordinary and beautiful spaces in the museum," said Bruce Hartman, executive director of the Nerman Museum.

The new first-floor gallery was spearheaded by Leawood, Kansas, art collector and major museum donor Mary Davidson, who generously offered to fund the creation of a gallery devoted to artists associated with Kansas. The Barton P. and Mary D. Cohen Charitable Trust gifted $700,000 to the project: $150,000 toward renovation, $500,000 for the museum's endowment, and $50,000 to acquire works by Kansas associated artists for the museum's permanent collection. Davidson also gifted her personal collection of almost 200 works of art which she and her late husband amassed over many years.

The first exhibition in the new Kansas Focus Gallery will feature six large-scale photographs by artist Lori Nix. Born and raised in rural Norton, Kansas, Nix's post-apocalyptic images as libraries, casinos, restaurants, and laundromats are both chilling and mesmerizing. Nix will be discussing her work later on March 24, 2016.

To further complement the inaugural opening of the Kansas Focus Gallery, the museum's McCaffree Gallery and mezzanine (both on the second floor) will showcase works by Kansas associated artists which have been acquired in conjunction with this new initiative.
Nerman Museum of Contemporary Art
12345 College Boulevard
Overland Park, KS 66210
913.469.3000
For more information on the exhibition
For more information on Lori Nix's artist talk
Browse Lori Nix's series "The City"
Browse all of Lori Nix's work at ClampArt

Blog post by:
Brian Paul Clamp, Director