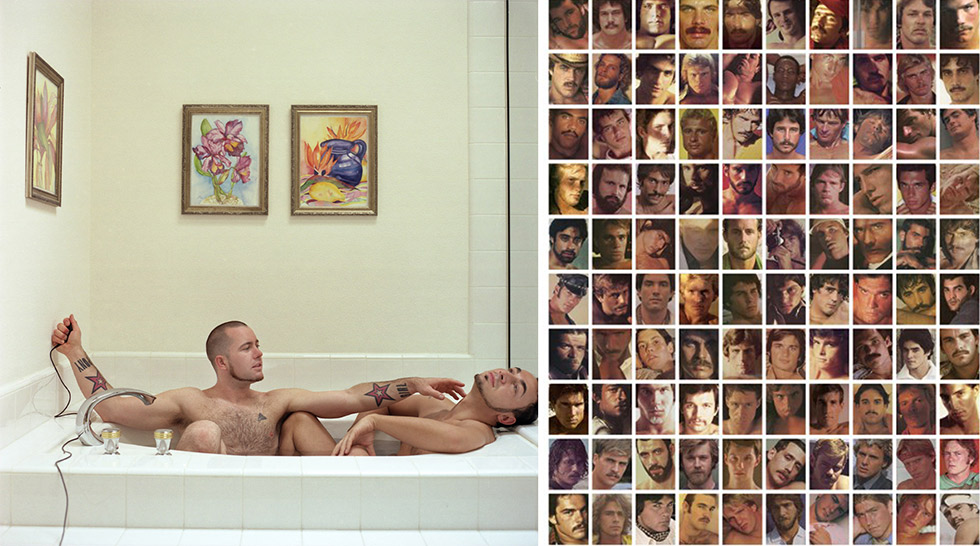 Image (left): John Arsenault, "There Never Was a Woman of My Dreams," 2006, Archival pigment print.
Image (right): Pacifico Silano, "Pages of a 'Blueboy Magazine'," 2012, One hundred archival pigment prints.
John Arsenault and Pacifico Silano's work is included in "Art AIDS America" at the Tacoma Art Museum: October 3, 2015 – January 10, 2016. Other artists include Shimon Attie, Bill Jacobson, Deborah Kass, and David Wojnarowicz, among many others.
This groundbreaking exhibition underscores the deep and unforgettable presence of HIV in American art. It introduces and explores the whole spectrum of artistic responses to AIDS, from the politically outspoken to the quietly mournful, surveying works from the early 1980s to the present.

Art AIDS America is organized by Tacoma Art Museum in partnership with The Bronx Museum of the Arts, and co-curated by Jonathan David Katz, Director, Visual Studies Doctoral Program at the University at Buffalo (The State University of New York), and Rock Hushka, Chief Curator at Tacoma Art Museum. Generous support provided by The Andy Warhol Foundation for the Visual Arts, The Paul G. Allen Family Foundation, Leslie-Lohman Museum of Gay and Lesbian Art, and Gilead Sciences, Inc.
Tacoma Art Museum
1701 Pacific Avenue
Tacoma, WA 98402
253.272.4258, T
Click here for more information
Browse all of John Arsenault's work at ClampArt
Browse all of Pacifico Silano's work at ClampArt
Blog post by:
Andrew Kurczak, Gallery Assistant