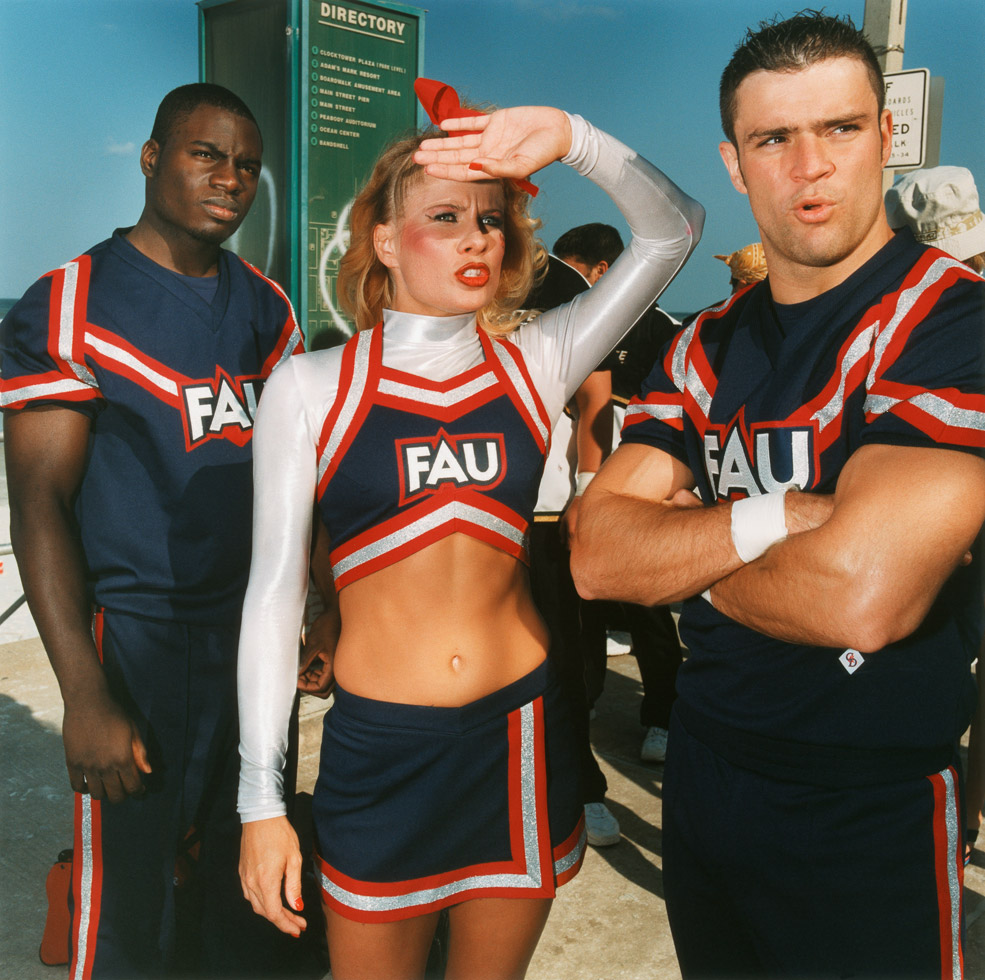 Image: © Brian Finke, "Untitled (Cheerleading #81)," 2002, Chromogenic print.

Brian Finke's work is featured in "The Sports Show" (co-curated by Todd Radom and Jane Nuzzo) at the SVA Chelsea Gallery from August 22 – September 19, 2015:
The School of Visual Arts Alumni Society presents "The Sports Show," a survey of creative work in various media that brings fans closer to the action—before, after and during the game. The exhibition brings together more than 30 leading artists and designers who graduated from SVA in commercial design and advertising, film and video, illustration and cartooning, motion graphics, painting and photography. These artists are behind some of the most iconic imagery and creative direction in the world of sports.

From team uniforms to TV commercials to magazine covers, America's love affair with sports is fueled by men and women whose skill and passion match that of the players. According to a 2014 report published by John Carroll University, in 2011 over 15 million people attended National Football League (NFL) games, more than 65 million fans attended Major League Baseball (MLB) games within the United States, and over 14 million Americans attended National Hockey League (NHL) matches. "The Sports Show" shines a light on the creative work dedicated to those pastimes, along with basketball, boxing, golf, roller-skating, waterskiing, and soccer.

"'The Sports Show' taps into the universal appeal of competition and aesthetics," says Todd Radom (BFA 1986 Media Arts), the designer behind the official logos for Super Bowl XXXVIII and the 2009 NBA All-Star Game, among other pro events and franchises. "At its best, sports transcends time and rises above politics."

The exhibition is designed by SVA Galleries Director, Francis Di Tommaso.
SVA Chelsea Gallery
601 West 26th Street, 15th Floor
New York City
212.592.2145, Telephone
For more information and a full list of artists:
http://www.sva.edu/events/events-exhibitions/the-sports-show
Browse Brian Finke's series "2-4-6-8: American Cheerleaders and Football Players"
Browse Brian Finke's series "Bodybuilding"
Browse all of Brian Finke's work at ClampArt

Blog post by:
Brian Paul Clamp, Director