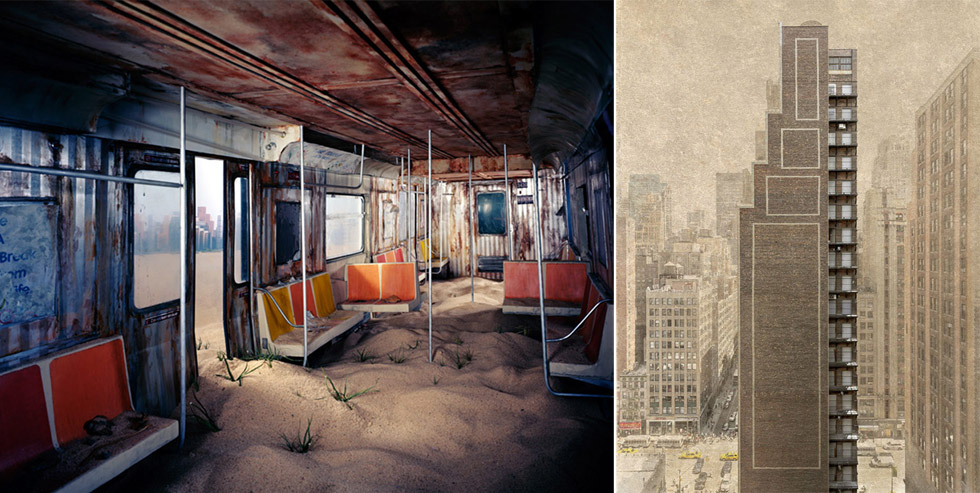 Left: Lori Nix, "Subway"; Right: Marc Yankus, "Stairs Building"

Lori Nix and Marc Yankus are both included in the Humble Arts Foundation's online exhibition New Jack City.
One of the most common challenges I hear when speaking with photographers living and working in urban environments is the ability to make insightful, visually arresting work that "hasn't been done before." It's the oldest cliche and barrier to to inspiration. While this is likely true to any environment or artistic tradition, cities as subject matter–either because of their tourist appeal, or natural magnetism to artists and photographers–have become increasingly tricky. New York City's Coney Island is often perceived as overdone and "off limits," while Times Square is "tired and trite." Photographing architecture, at least on the surface, rings of high school photo101 assignments more than a great leap towards pushing photography into the next dimension. In speaking and working with photographers closely over the past decade, I've found that this challenge has pushed many urban-dwelling photographers to retreat into their studios, immersing themselves in still life and "process based" photography, away from the potentially cliché concrete jungle outside.

Using this understanding as a launch point, we invited photographers to submit work that addressed a range of approaches to the urban environment with hopes that it might not only free them from the fear of the faux-pas, but potentially surface some unexpected angles on capturing contemporary city life.
Check out the wide range of work in this online exhibition curated by Amani Olu and Jon Feinstein.
View the exhibition
Read the exhibition statement
Browse all of Lori Nix's work at ClampArt
Browse all of Marc Yankus' work at ClampArt
Blog post by:
Brian Paul Clamp, Director