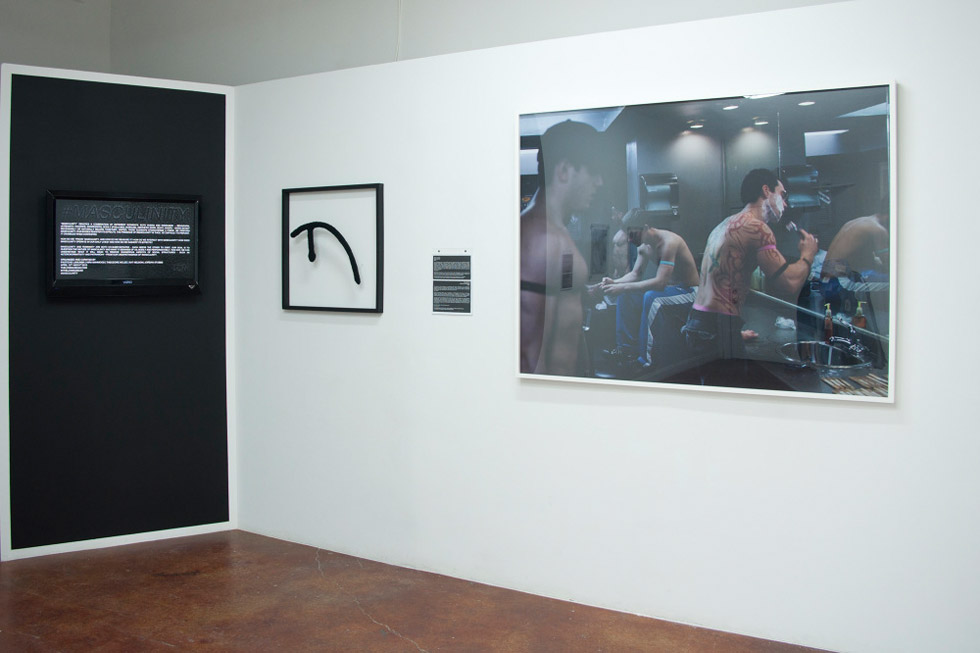 Jan Rattia's photography is featured in "#Masculinity" at The Low Museum in Atlanta, which opened on Monday, April 13, 2015.
"Masculinity" denotes a combination of different elements, both human and nonhuman—behavioral (strength, violence, aggression), bodily (phalluses, muscles), aesthetic (dark, heavy, sharp)—which do not necessarily or naturally belong together. Unified, these elements characterize a force. We perform masculinity; our bodies register its effects. The presence of #masculinity is thick, yet difficult to pinpoint. It crumbles when contested.

How do we 'prove' masculinity, and how do we measure it? How do we interact with masculinity? How does masculinity operate in our daily lives? And how do we subvert its effects?

Masculinity and femininity are both co-substantiated—each needs the other to exist. Our goal is to question the nature of masculinity and what it demands of us; bodily and performatively. This way, we can understand what it will mean to remove dangerous aspects of social structures—such as heteronormativity and patriarchy—from our understandings of #masculinity.
The Low Museum
550 John Wesley Dobbs Avenue, NE
Unit A
Atlanta GA, 30312
http://thelowmuseum.com/MASCULINITY
Browse all of Jan Rattia's work at ClampArt

Blog post by:
Brian Paul Clamp, Director