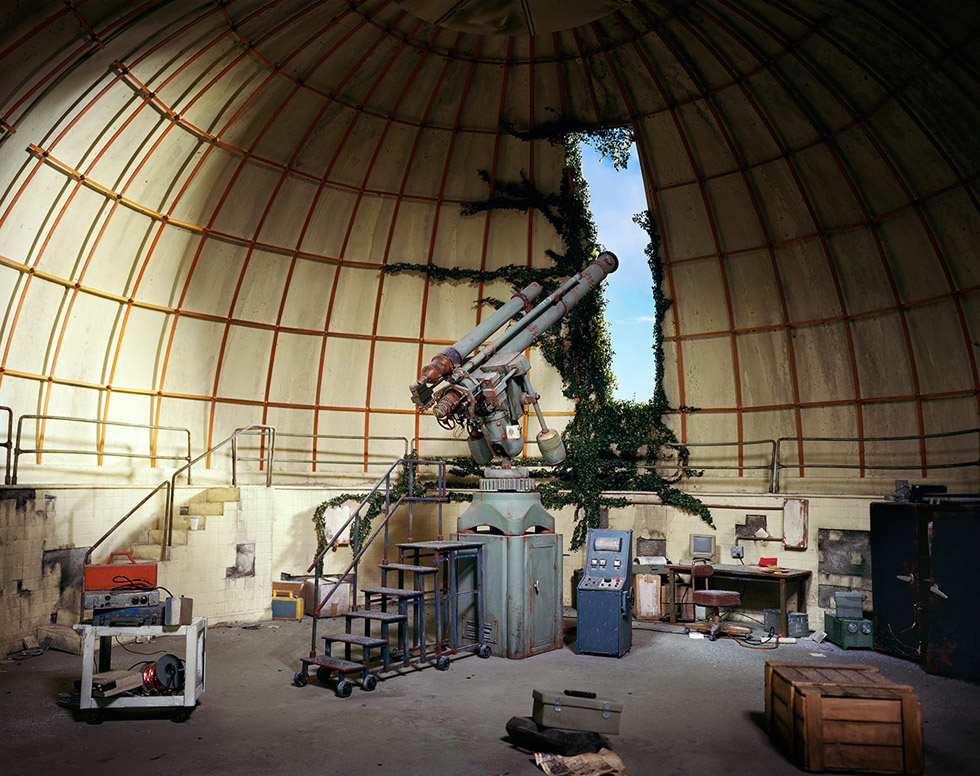 Image: Lori Nix and Kathleen Gerber, "Observatory," 2015, Archival pigment print.

New work by Lori Nix and Kathleen Gerber is included in "Feel Big Live Small" at apexart in New York City from March 19 – May 16, 2015. Rachel Nuwer writes:
Archeologists excavating ancient Egyptian tombs in the 19th century discovered not only mummies, riches, and hieroglyphs, but also droves of meticulously crafted miniatures. In tombs sealed since the golden age of the Old Kingdom, they found 4,550-year-old model vessels chiseled out of stone, shrunken mirror replicas arranged alongside life-size versions of the same religious paraphernalia. Stone, however, soon gave way to clay and copper miniatures –tiny versions of funerary priests' ritual equipment, as found before, but also doll-like models of ships, buildings, pets, and people – which were often amassed in great numbers in the tombs and temples of the Sixth Dynasty. In just a few excavation seasons, archaeologists unearthed some 45,000 of these tiny items.

Even today, amidst iPads and apps and high-speed gratification, those who pursue the art of miniature collecting remain firmly committed to that centuries-old cause. Why we are so universally drawn to miniatures, however, is a somewhat elusive question.

According to author and English professor Susan Stewart, although miniature objects are diminutive, because of the hours and care invested in creating them, they are paradoxically precious. Those meticulously crafted items also stir within us intense nostalgia for things past. Indeed, many collectors and builders first encountered miniatures as children, and that fondness never left them.

As adults, many discover in miniatures a way not only to represent the world, but also to tame and perfect it, excluding the randomness and entropy of outside forces. "The creation of small worlds gives us the illusion of control," artist Thomas Doyle writes. "In a world that grows ever faster and more chaotic, in a world in which we are bombarded with imagery, artworks in small scales allow us a place of retreat, where time has stopped."
Other artists in the show organized by Elan Smithee include Matthew Albanese, Dante Brebner, Citizen Brick, Thomas Doyle, Joe Fig, Idan Levin, Kendal Murray, Serial Cut, Tracey Snelling, and Daisy Tainton.
apexart
291 Church Street
New York, NY 10013
212.431.5270
http://apexart.org/exhibitions/smithee.php
Opening Reception:
Wednesday, March 18, 2015
6.00 – 8.00 p.m.
Browse Lori Nix and Kathleen Gerber's series "The City"
Browse all of Lori Nix and Kathleen Gerber's work at ClampArt
Blog post by:
Brian Paul Clamp, Director