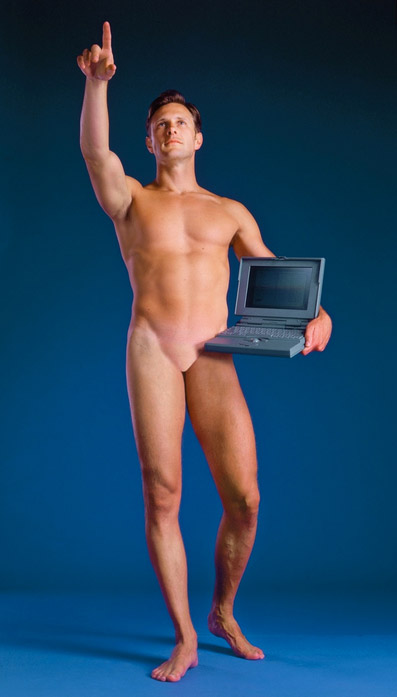 Image: Copyright Aziz + Cucher, "Untitled (Man with a Computer)," 1992, Chromogenic print (Edition of 3), 86 x 38 inches

Aziz + Cucher's work is featured in "Come as You Are: Art of the 1990s" at the Montclair Art Museum from February 8 – May 17, 2015. The show will travel to the Telfair Museum of Art, Savannah, Georgia from June 12 – September 20, 2015; the University of Michigan Museum of Art, Ann Arbor from October 17, 2015 – January 31, 2016; and the Blanton Museum of Art, University of Texas at Austin from February 17 – May 15, 2016.
This exhibition marks the first major American museum survey to examine the art of this pivotal decade in its historical context. Showcasing approximately 60 works by 45 artists, it includes installations, paintings, sculptures, drawings, prints, photography, video, and digital art. "Come as You Are" offers an overview of art made in the United States between 1989 and 2001—from the fall of the Berlin Wall to 9/11—and is organized around three principal themes: the "identity politics" debates, the digital revolution, and globalization. Its title refers to the 1992 song by Nirvana (the quintessential '90s band, led by the quintessential '90s icon, Kurt Cobain); moreover, it speaks to the issues of identity that were complicated by the effects of digital technologies and global migration. The artists in the exhibition came of age during and reflect the increasingly heterogeneous nature of the art world during this time, as artists of color, women artists, and LGBTQ artists attained increased prominence.

The exhibition is curated by Alexandra Schwartz, MAM curator of contemporary art, with Kimberly Siino, curatorial assistant. Following its premiere at MAM, the show will embark on a national tour.
Montclair Art Museum
3 South Mountain Avenue
Montclair, NJ 07042
212.274.1776
https://montclairartmuseum.org/content/come-you-are-art-1990s

Browse Aziz + Cucher's work from "Faith, Honor and Beauty"
Browse all of Aziz + Cucher's work at ClampArt

Blog post by:
Brian Paul Clamp, Director