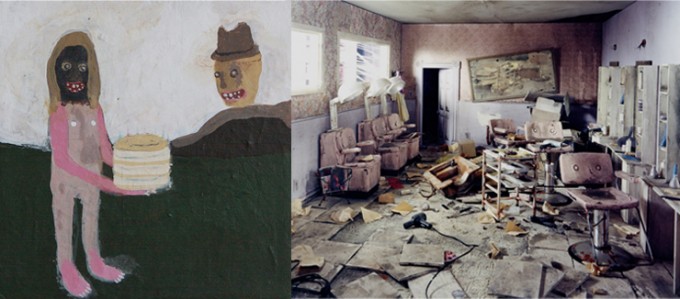 Left: Scott Daniel Ellison, "The Birthday Party," 2009, Acrylic on panel, 6 x 6 inches. Right: Lori Nix, "Beauty Shop," 2010, Archival pigment print.

Both Scott Daniel Ellison and Lori Nix have artworks featured in the Girl's Club's exhibition, "The Moment. The Backdrop. The Persona." (November 7, 2014 – September 26, 2015)—an examination of the uses of narrative in contemporary art. The exhibition of works in drawing, painting, video, and new media reveals the continued power of storytelling in art today, and the myriad forms it takes.
"The Moment. The Backdrop. The Persona.," an exhibition of works by more than thirty artists from the collection of Francie Bishop Good and David Horvitz  invites the viewer to experience a singular isolated moment, an evocative backdrop, or a deeply imagined character (sometimes a combination of two or more). Mostly the work of female contemporary artists, many of the stories channel archetypal narratives from mythology and fairy tales. Others examine contemporary relationships across a vast range from sober examinations of self and environment to high melodramas.
Along with the exhibition, a full-color catalog will feature an introduction from creative director Michelle Weinberg and gallery director Sarah Michelle Rupert; a series of poems from writer-in-residence Laura McDermott; and interventions from artists Lisa Sanditz, Carolyn Swiszcz, Yanira Colado; and a collaborative project from Amalia Caputo and Marina Font.
Girls' Club
117 NE 2nd Street
Ft Lauderdale, FL 33301
For more information
Blog post by:
Keavy Handley-Byrne, Gallery Assistant