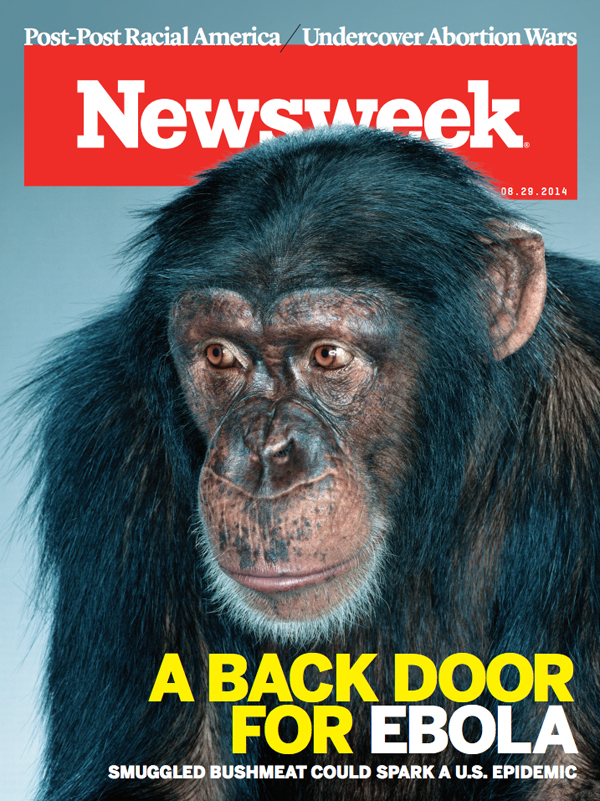 Image: An outtake from the "Monkey Portraits" series by Jill Greenberg.

One of Jill Greenberg's monkeys–actually one of Jill Greenberg's chimpanzees (which technically makes him an ape)–graces the cover of last week's edition of Newsweek. The image is certainly an eye-catching way to illustrate the cover story about the potential for a US outbreak of the Ebola virus, currently a hotly discussed topic in the international and medical communities.
The licensing fee from the photograph was donated in its entirety to Médecins Sans Frontières (MSF), an international, independent, medical humanitarian organization that delivers emergency aid to people affected by armed conflict, epidemics, natural disasters, and exclusion from healthcare. MSF offers assistance to people based on need, irrespective of race, religion, gender, or political affiliation. Currently, MSF are working in the epicenter of the most recent Ebola virus outbreak.
View the original Newsweek article
View Jill Greenberg's "Monkey Portraits" at ClampArt
Browse all of Jill Greenberg's work at ClampArt
Blog post by:
Keavy Handley-Byrne, Gallery Assistant