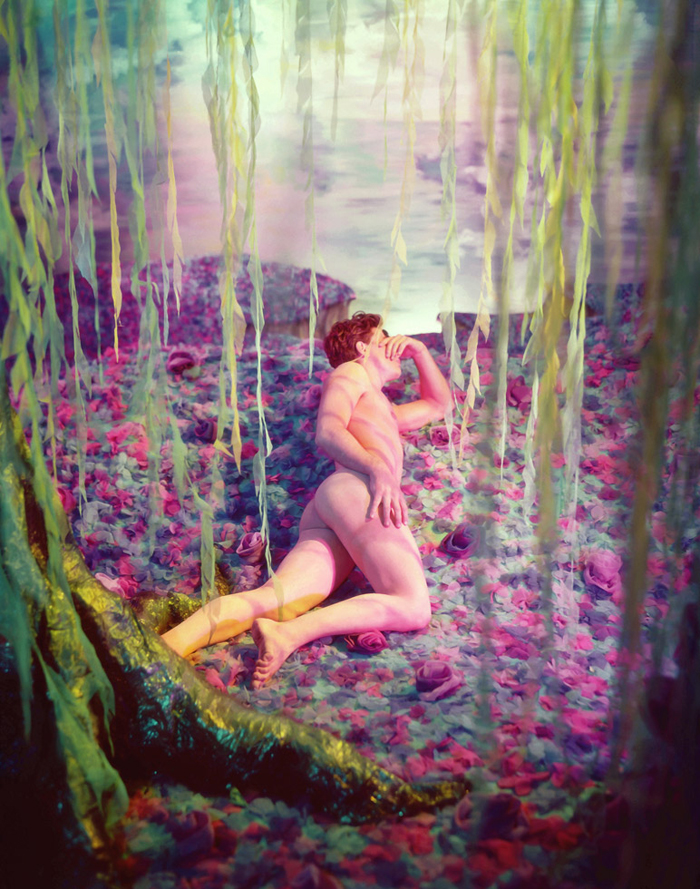 Image: James Bidgood, "Willow Tree (Bruce Kirkman)," mid-1960s.

The Leslie Lohman Museum of Gay and Lesbian Art recently acquired Willow Tree by James Bidgood from ClampArt for their permanent collection. The photograph will be on display from August 14 – September 28, 2014, as part of the exhibition Permanency: Selections from the Permanent Collection. Approximately 70 objects will be on display, including photographs and collages, paintings, drawings, and prints from the mid-20th century to 2013.
"Permanency" features artwork recently accessioned by the museum, which is currently comprised of approximately 1,300 pieces. This exhibit will feature work from the mid-20th century to 2013, artists including James Bidgood, Dyke Action Machine (DAM), Nan Goldin, Red Grooms, Harmony Hammond, Robert Indiana, Deborah Kass, George Platt Lynes, Duane Michals, Annie Sprinkle, Arthur Tress, and many others.
The Leslie-Lohman Museum is operated by the Leslie/Lohman Gay Art Foundation, Inc., a non-profit founded in 1987 by Charles W. Leslie and Fritz Lohman, who have supported gay and lesbian artists for over 30 years. The Leslie-Lohman Museum embraces the rich creative history of the gay and lesbian art community by informing, inspiring, entertaining, and challenging all who enter its doors.
The Leslie-Lohman Museum of Gay and Lesbian Art
26 Wooster Street
New York, NY 10013
https://www.leslielohman.org/visit.html
Opening Reception:
August 14, 2014
6.00 p.m. – 8.00 p.m.
View the Press Release
Browse all of James Bidgood's work at ClampArt
Blog post by:
Keavy Handley-Byrne, Gallery Assistant