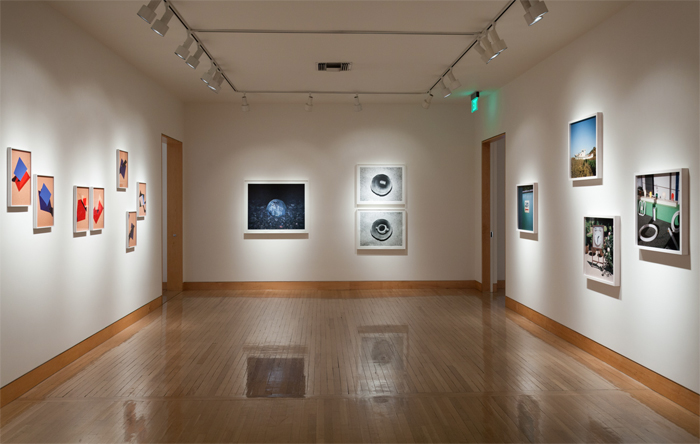 Michael Lundgren's work is included in "Where There's Smoke" at Fraenkel Gallery.
"Where There's Smoke" gathers together four artists who subvert the viewer's sense of how a photograph can and should operate, both conceptually and perceptually. This is no mere photographic deconstruction, however; a metaphorical intent ricochets through the works. By turns subtle and overt, the imagery both guides and confronts the viewer. The tools employed run the gamut of photographic expression—from hand-collage to the art of sequencing, from the use of reflection and shadow, to chance, suggestion, craft, and, at its most fundamental, a sophisticated intensity of looking.
This exhibition comprises work from Lundgren's series titled "Matter," a mythological manifestation of ruin and regeneration. By incorporating human artifacts alongside natural phenomena, the work probes the perceived divide between nature and culture. In the words of the artist: "Embracing a minimalist approach, the images navigate an octave of duality—burial and emergence, solidity and transience, deep and shallow time—the life of cells and the life of stone. The sequence is structured on the connotation of the images, building tension through color relationships and oscillating into black-and-white to enhance and disturb picture logic."
The exhibition runs concurrently with "Who Do You Love," a solo exhibition of twelve unique pieces by John Gossage.
Fraenkel Gallery
49 Geary Street, 4th Floor
San Francisco, CA 94108
Tuesday through Friday:
10:30 a.m. – 5:30 p.m.
Saturday:
11:00 a.m. – 5:00 p.m.
"Where There's Smoke"
July 10 – August 23, 2014
http://fraenkelgallery.com/exhibitions/where-theres-smoke
View a PDF of the press release
Browse all of Michael Lundgren's work at ClampArt
Blog post by:
Keavy Handley-Byrne, Gallery Assistant