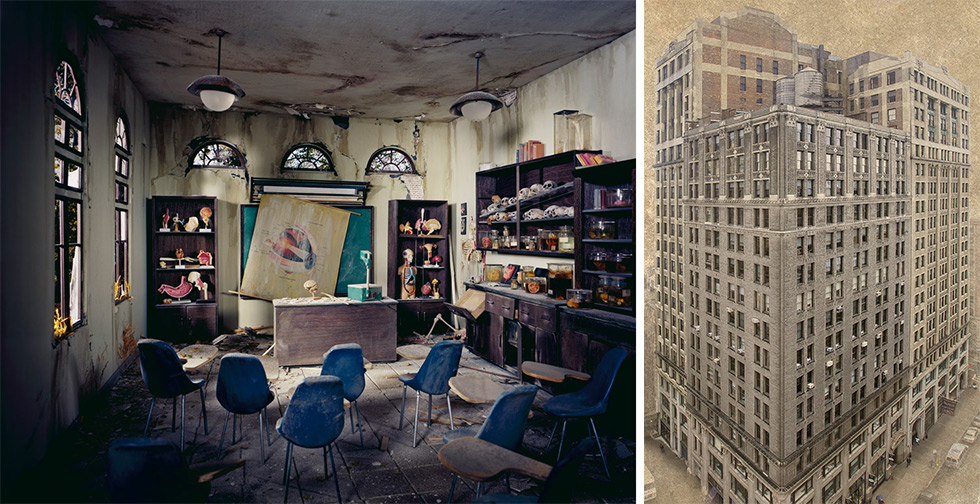 Image (left): Lori Nix, "Anatomy Classroom," 2012, Archival pigment print. Image (right): Marc Yankus, "Three Buildings," 2013, Archival pigment print.
Lori Nix and Marc Yankus' work is featured in "Of Time and Buildings" at the George Eastman House, March 8 – June 8, 2014. Other artists include Feng Bin, James Casebere, John Divola, Susan Dobson, Odette England, Kenneth A. Hedrich, Eirik Johnson, and Jeff Chien-Hsing Liao.
As photographs became increasingly ubiquitous in the twentieth and twenty-first centuries, they came to play a major role in our understanding and experience of place. Of Time and Buildings presents the work of several artists who explore the relationship between photographic images of the built environment and our experience of place.

The photographers in this exhibition approach the photographic interpretation of the built environment in myriad ways. Some reinforce the conceptual goals of the public buildings that are their subject while others explore a more personal realm, in which the representation of space resonates with private significance.
George Eastman House
900 East Avenue
Rochester, NY 14607
See Lori Nix's series "The City"
Browse all of Lori Nix's work at ClampArt
See Marc Yankus' series "Buildings"
Browse all of Marc Yankus' work at ClampArt
Blog post by:
Brian Paul Clamp, Director