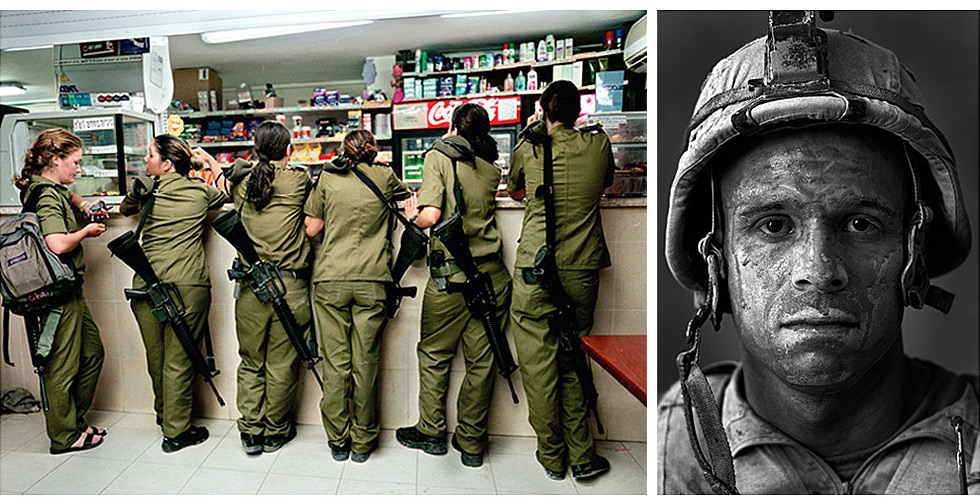 Image (left): Rachel Papo, "Military kiosk counter," Shaare Avraham, Israel, 2004, Chromogenic print. Image (right): Louie Palu, "U.S. Marine Gunnery Sergeant Carlos 'OJ' Orjuela, age 31," Garmsir, Helmand, Afghanistan,
2008, Archival pigment print.

Louie Palu and Rachel Papo's work is featured in "War/Photography: Images of Armed Conflict and its Aftermath" at the Brooklyn Museum.
"War/Photography" examines the 150-year-old relationship between war and photography, a history that entails both the evolution of photography as a medium and a change in the public perception of warfare. Documenting the breadth of experience of armed conflict (including recruitment, training, the daily lives of soldiers, and the aftermath of combat), the exhibition includes works by military personnel, artists, amateur photographers, photojournalists, and several Pulitzer Prize winners. Also on display are a number of rare daguerreotypes and photographic equipment.
"War/Photography" is on exhibition through February 2, 2014.
Read more about the exhibition
See Rachel Papo's series, "Serial No. 3817131"
Browse all of Rachel Papo's work at ClampArt