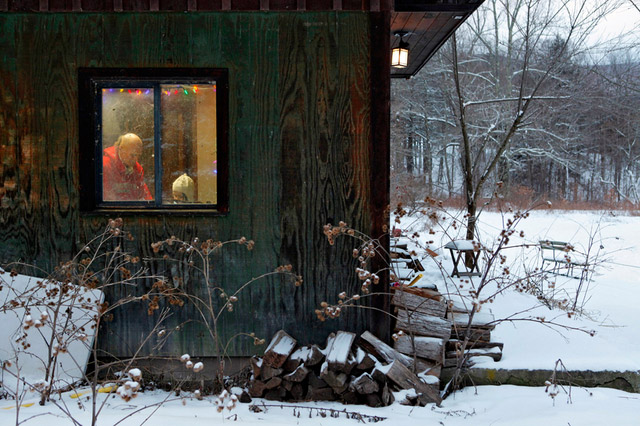 Rachel Papo's photograph, "Piano Lesson," is included in "Critical Mass Top 50 2012: Color and Light" at the Southeast Museum for Photography in Daytona Beach, Florida from August 18 – October 6, 2013. The exhibition was curated by W.M. Hunt. Papo's image is part of her series "Homeschooled," which looks at the lives of homeschooled children in the Catskills.
Rachel Papo writes:
The photograph was taken on one of the snowiest days last year. For over two hours I walked with True around their property in the deep snow, taking pictures and trying to keep up with her endless energy. True kept running ahead of me and when I reached their house, when the sun was starting to set, I noticed her and her father through the window on the piano. I liked the contrast of the warmth that was coming through the window against the coldness of the snow and the approaching darkness.

As the criticism of the U.S. education system grows among parents, so does the appeal of homeschooling. Together with today's increasingly fast-paced, connected culture, this choice seems an almost natural one for many families. Though still a controversial and heated topic, the number of homeschooled children in America is growing rapidly.

For the past two years I have been photographing a small number of families living in the Catskills who practice homeschooling. Having recently moved to the area with my husband and baby daughter, I decided to explore this controversial topic in depth and challenge my own prejudgments on the issue. Rather than document the parents and their unique methods, I choose to focus on the children, in an attempt to capture their spirit and the meaning of growing up outside the conventional four classroom walls.

Twelve-year-old Iris and ten-year-old Roan live on a family farm with their parents, who believe their children would benefit more from spending time within nature and at home, rather than on a school bus and in a classroom. Apart from studying traditional subjects, their daily chores involve helping out on the farm and discovering their own topics of interest.

Six-year-old True has been raised by her father since she was four weeks old, after her mother returned to a full time job in a local cafe. True assists her father with outdoor tasks and is being taught various subjects with an emphasis on religion and music. Dissatisfied with the schools in the area, True's parents think it is "a bit careless to allow my daughter to fly on an airline where pilots are not required to pass a test."

The parents of eight-year-old Grisha and three-year-old Anastasia do not believe in systems, especially school systems. They want their children to utilize their imagination and creativity during the most impressionable years of their childhood, convinced that in school these traits would be significantly diminished. Grisha is fascinated by animals and nature and is currently working on a book that he intends to have published.

With this body of work I hope to encapsulate a cultural movement in a distinct time in history, on the cusp of it becoming mainstream. As I continue to photograph these children I am constantly forced to re-examine my initial opinion of this phenomenon and, for a few hours each time, I allow myself to follow them into their mysterious, magical world.
"Critical Mass 2012" was organized and circulated by Photolucida. The aim of Critical Mass, and all Photolucida programming, is to provide participants with career-building opportunities and to promote the best emerging and mid-career artists working today. Critical Mass is a program about exposure and community. Submitted work is pre-screened by a committee of approximately 20 jurors. From those votes, the 200 top Finalists are determined. The images of these 200 Finalists then go to a jury of approximately 200 of the world's best photography professionals who have agreed to view and vote on the Finalists' work. The 200 Critical Mass jurors were truly an international group of industry professionals representing a wide variety of photographic interests.
Southeast Museum for Photography
Daytona State College
1200 West International Speedway Boulevard (Building 1200)
Daytona Beach, FL, 32114
(386) 506-4475
For more information on the exhibition:
http://smponline.org/ex_critical_mass.html#.UgJ-cWRoRAo
See Rachel Papo's series, "Homeschooled"
Browse all of Rachel Papo's work at ClampArt

Blog post by:
Brian Paul Clamp, Director