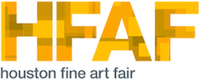 We are pleased to announce that ClampArt will be exhibiting in the Houston Fine Art Fair, September 14 – 16, 2012.
This will be the second year of the fair. Last year, over 10,000 enthusiastic art lovers explored the offerings of 83 dealers.
Houston is home to many major museums, a thriving gallery scene, and a strong base of passionate collectors and patrons. For 2012, the fair will be held in the Reliant Center – – the leading entertainment complex in the state. The fair site is adjacent to Reliant Park, home stadium of the popular NFL Houston Texans. Reliant Center is also a neighbor of the world respected Houston Medical Center.
Show Times:
Thursday, September 13, 6 – 7:30pm (Opening Preview Party)
Friday, September 14, 11am – 7pm
Saturday, September 15, 11am – 7pm
Sunday, September 16, 11am – 6pm

Blog post by:
Brian Paul Clamp, Director